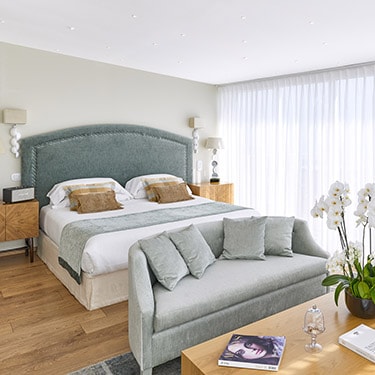 It is the beginning of a new season…
This year, Château de la Chèvre d'Or *****, magnificent gem overlooking the Mediterranean Sea, will reopen on March 7th, 2018.
As always, La Chèvre d'Or will propose you a unique and exclusive stay, in the heart of the medieval village of Eze between Nice and Monaco.
Unique by their architecture and decoration, our warm and bright rooms, as well as our suites will become your own little paradise during the duration of your stay.
Spread throughout the heart of the village, among the narrow streets or our gardens, our rooms and suites are either modern, a reflection of an ancient past, delicate or extravagant. They each offer something magical or make you feel as if you were part of a fairytale.
Our Restaurants

With once again 2 Michelin Stars at our gourmet restaurant "LA CHEVRE D'OR", our executive chef, Arnaud Faye, and his team, will continue to delight and make our cuisine shine, with a well-balanced combination between tradition and creativity.
From April, Château de la Chèvre d'Or will open the restaurant « LES REMPARTS » where you will enjoy lunch on its terrace, the gateway to paradise suspended between the sea and the sky.
In May, "LE CAFÉ DU JARDIN" will let you relax and enjoy a light and refreshing lunch, or a drink while the sun is setting. In this little piece of heaven do not miss the wood-fired oven pizzas and the rest of its menu. You will also be able to dine under the stars overlooking the Sea during the month of July and August.
New in 2018: Opening of our Italian Restaurant « Le Stagioni »
This year, you will be able to enjoy a wonderful dinner starting from April at our new Italian restaurant « LE STAGIONI »
Our executive chef, Arnaud Faye, and Chef Ugo Gastaldi, will be interpreted a four hands culinary symphony, combining traditional, classic, and revisited Italian cuisine. The chefs will share their attachment to the seasonal products, inviting you to an extraordinary escape across the nearby border.

Dare to discover our new setting, our rooms and our restaurants! Your experience at La Chèvre d'Or will be, without a doubt, the highlight of your visit on the French Riviera. An unforgettable moment that will make you say over and over again "LA CHÈVRE D'OR J'ADORE! …"
We look very much forward to welcoming you this season.
Published on 5 mars 2018